If you have already tried all kinds of braids and tangles, then this hairstyle surely surprise you. Suitable only for girls with long hair. Plait it very easy and fast. This unusual pigtail suitable for those in a hurry, but wants an elegant way to decorate your hair.

For weaving such an unusual braids need:
- A few small transparent silicone rubbers
The first thing combed the hair and collect them on one side, which will be located your pigtail.
At about shoulder fasten hair silicone rubber band.
Above the band pushing the hair and make a hole.
And here comes the fun part. Through opened we pass through the entire tail end up with a curl.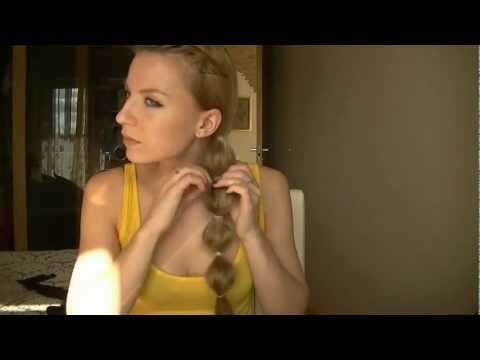 Tighten the resulting curl, pulling the loose hair to the side and down.
And straighten, curl to look nice and pretty.
Take another rezinochku and do the same shortly. The amount of such zavitochkov will depend on the length of hair.